Dirty Dining, Nov. 24: Popular restaurants not keeping kitchens clean
Posted:
Updated: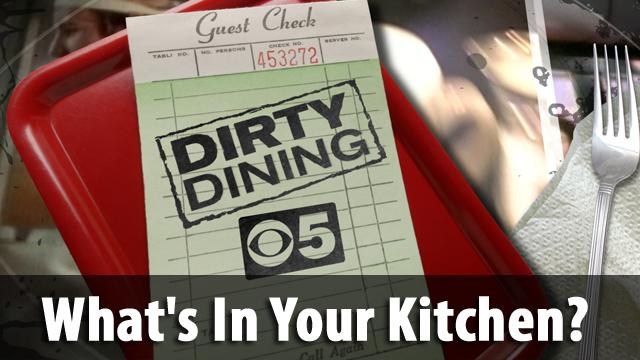 PHOENIX (CBS5) -
Every week CBS 5 News is sent a list of restaurants that have been recently inspected by Maricopa County's Environmental Services Department. CBS 5 News selects five restaurants with some of the highest number of "Risk Factors."
According to health inspectors, risk factors are considered major health code violations. For more details on the restaurant inspection scoring system, visit http://www.maricopa.gov/.
La Salsita
2526 W. Van Buren Street
Phoenix
5 major violations
El Kiosco
3650 W. Camelback Road
Phoenix
5 major violations
The Keg Steakhouse
2240 E. Williamsfield Road
Gilbert
5 major violations
Dilly's Deli
2895 S. Alma School Road
Chandler
6 major violations
Salsita Tacos Express
949 W. Camelback Road
Phoenix
9 major violations
Dean's List – Those with perfect scores
Sauce
3426 E. Baseline Road
Mesa
Applebees
8001 W. Bell Road
Peoria
Hissho Sushi
5017 N. Central Avenue
Phoenix
Bistro Daniel
4356 W. Thunderbird Road
Glendale
Queen Creek High School
22149 E. Ocotillo Road
Queen Creek
Olive Garden
7889 W. Bell Road
Peoria
Copyright 2011 KPHO. All rights reserved.