Inflammatory breast cancer strikes without warning
Posted:
Updated: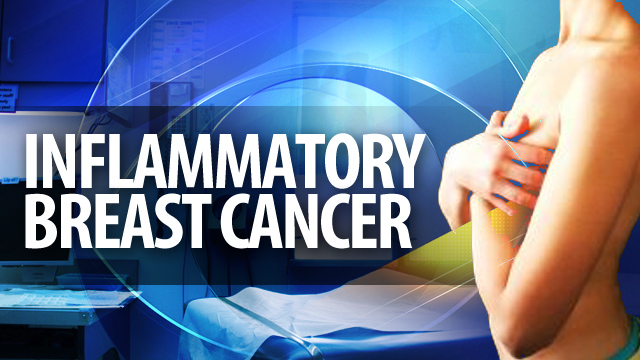 (PHOENIX)-- When you think about breast cancer, most people assume you'll find a lump, at least have some sort of warning.
But there's a rare and very aggressive type of breast cancer called inflammatory breast cancer, or IBC, that doesn't start with a lump and it won't show up on a mammogram.
You might have received an email chain letter at one time or another, warning you of what's also referred to as the "Tornado killer," since IBC typically strikes younger women and progresses so quickly.
Susie Coyle, of Phoenix, has been fighting IBC for a year now.
She said there are more good days than bad, and even if it weren't true, you'd never hear her complain.
"I'm just squeezing as much joy out of each day as I can," Coyle said.
"When it first began, it reminded me of heat rash my babies used to get. It was very fine in the center of my chest. It was so insignificant looking, we kind of ignored it," she said.
The telltale sign of IBC is the texture of that rash. What's common to first brush-off as heat rash or bug bites, IBC will make your skin feel like an orange peel.
The other symptoms can be inverted nipples, painful swelling, and/or itching.
Coyle said her rash didn't go away, "it continued and it persisted and it moved a little bit and it grew a little bit."
"It isn't a pretty story to be telling, really," Coyle said.
She was first diagnosed with traditional breast cancer two years ago. There's not usually a correlation.
After her lumpectomy, the IBC rash surfaced and her doctor advised radiation
"The picture they painted for me was not lovely. It just grows, your skin rots, if you don't do anything, your skin rots and there's a terrible odor. You become isolated and I'm the most un-isolated person I know!" Coyle said.
But only a couple months after radiation, new growths started surfacing across her chest and back.
"Several came up as pretty good-sized growths and they'd open just like cauliflower," Coyle said.
"They said massive chemotherapy is basically what they could do for me."
Janice Grogan and Jo Houlihan lost their sister Judy to IBC.
"It's amazing how many doctors you ask if they've heard of IBC, and most have no idea," Grogan said.
She said her sister was sick and in a lot of pain and doctors, stumped, would only give her antibiotics.
"And it wasn't helping! It hurt to move her arms, she couldn't get comfortable in bed because it hurt to lay on it. It was very painful," said Houlihan.
Houlihan, a breast cancer survivor, had never even heard of IBC.
"(Judy) called me up and says 'Jo, does breast cancer hurt?' I says 'No. You don't have breast cancer, it must be an infection."
Grogan said her sister might have never been diagnosed if it weren't for her niece doing a little online research.
"Her daughter, Bea got on the internet and found Inflammatory Breast cancer, took her to the oncologist and said, 'This is what my mother has," Grogan said.
It took eight months to diagnose, and the 18 months of chemotherapy that followed, just wasn't enough.
Susie Coyle said no to chemo.
She's been using alternative medicine for more than a year and hospice for more than a month.
"To be perfectly honest, as I'm leaving this world, I do not want to go out vomiting," she said.
Married 54 years, with five kids, nine grand kids and two great-grand babies, Coyle keeps a strong faith and hopes her story will keep others from ignoring the warning signs of this silent killer.
"We always put off going to the doctor till the very last thing. You need to pay attention to things that aren't going away. Don't waste a moment!"
For more information on Inflammatory breast cancer and its warning signs, click here.
Copyright 2011 KPHO. All rights reserved.