Baseline Killer: 'I am no monster"
Posted:
Updated: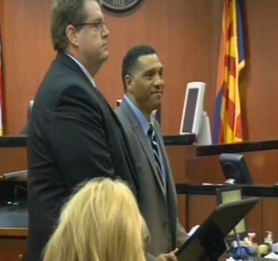 PHOENIX (CBS5) -
Convicted killer Mark Goudeau, 47, addressed jurors for the first time Wednesday.
The same jury that found Goudeau guilty of nine murders last month, must now decide whether Goudeau deserves the death penalty.
"I am no monster," Goudeau told the jury. "They've assassinated my character. They painted me to be this monster. I am no monster. I simply asked the judge for permission to let you know that."
Goudeau was convicted on Oct. 31 of multiple murders, rapes and kidnappings stemming from a violent crime spree across the Valley dating back to 2005.
Prosecutors have said over and over again that Goudeau was a wolf in sheep's clothing, who preyed on innocent victims.
"I could look at each and every one of you in your eyes and say Mark Goudeau is no wolf in sheep's clothing," Goudeau said.
Goudeau made a point to tell jurors he was not a wolf in sheep's clothing at least a half dozen times, stating that he turned his life around after serving time in prison 20 years ago.
Goudeau said that his criminal past is what led to his arrest and eventual conviction.
However, nowhere in his six minute address to the jury was there an apology, an acknowledgement of remorse or proclamation of his innocence.
"I do pray that one day, that you guys learn the truth about this case," Goudeau said.
At times, Goudeau appeared a little emotional, stopping several times and taking some deep breaths.
Attorneys will present their closing arguments to the jury Nov. 28. It will then be up to jurors to decide if Goudeau is given the death penalty.
Copyright 2011 KPHO. All rights reserved.