Border tunnel discovered near San Diego
Posted:
Updated: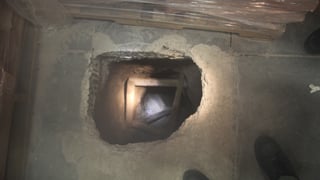 Courtesy of U.S. Immigration and Customs Enforcement
SAN DIEGO (CBS5) -
Investigators continue to sift through evidence at a warehouse south of San Diego housing the U.S. entrance to a sophisticated passageway that runs beneath the border to a warehouse more than 400 yards away in Tijuana, Mexico.
Authorities confirmed the existence of the tunnel Tuesday evening after obtaining a federal warrant to search the facility near the Otay Mesa Port of Entry. Inside the building, investigators discovered the entrance to the passageway.
From the warehouse floor, the tunnel plunges more than 20 feet to the bottom of the shaft. The passageway, measuring about 4 feet by 4 feet, is equipped with structural supports, electricity and ventilation. Evidence found inside the warehouse leads investigators to believe the tunnel was only recently completed.
The Tunnel Task Force recently began conducting surveillance on the warehouse after observing possible suspicious activity at the site. Tuesday afternoon, agents spotted a small cargo truck leaving the facility. Officers with the California Highway Patrol subsequently pulled the truck over on Highway 125 near the warehouse. Inside the trailer, officers discovered about three tons of marijuana packed in boxes. The driver and a passenger were taken into custody at the scene and are facing federal drug charges.
Based upon the results of the vehicle stop, agents obtained a warrant to enter the warehouse, where they recovered almost seven additional tons of marijuana. Meanwhile, Task Force officers alerted authorities in Mexico, who made entry into the Tijuana warehouse, resulting in the seizure of another five to six tons of marijuana.
Copyright 2011 KPHO. All rights reserved.