Pentagon rebukes Richard Carmona in Senate run
Posted:
Updated: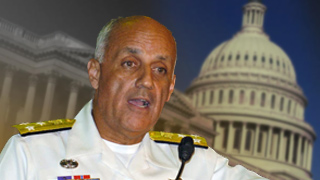 Richard Carmona
WASHINGTON (CBS5/AP) -
The Pentagon has blasted Richard Carmona for stepping down from his newly assigned position with them to announce his run for Senate.
The Pentagon said Friday that former Surgeon General Carmona is leaving one of their panels just one day after he was named to head a review of problems at the military's mortuary in Delaware. Pentagon Press Secretary George Little says Carmona notified the Defense Department on Friday that he would not be serving.
Carmona made the announcement of his plans to run for U.S. Senate in Arizona on Thursday, the same day that Defense Secretary Leon Panetta had promoted Carmona's appointment during a Pentagon briefing.
"If he informed the Pentagon of his intentions, it must have been in the equivalent of a quiet whisper because no one who should have heard about it did," a senior Pentagon official told The Hill.
Carmona describes himself as a fierce independent. He will run against Don Bivens in the Democratic primary.
Copyright 2011 KPHO. All rights reserved. The Associated Press contributed to this report.