Pay It Forward: Toddler in ICU after swallowing battery
Posted:
Updated: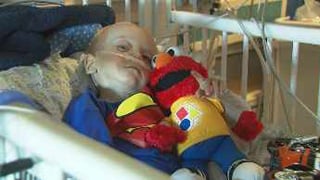 Emmett Rauch
PHOENIX (CBS5) -
It is an absolutely heartbreaking sight, and absolutely mind-blowing thought.
Emmett Rauch, 2, is living off tubes at Phoenix Children's hospital all because he swallowed something the size of a nickel.
"Batteries start burning in the esophagus within two hours and it was in him we think about three days," said Karla Rauch, Emmett's mom.
Karla Rauch said no one saw Emmett swallow the lithium battery from the remote control.
The first symptoms were similar to a cold, and by the time an X-ray was done, the damage was already done.
Emmett has endured 18 surgeries in the past year.
"We have had two similar cases in the past couple weeks, and it's becoming more and more frequent," said Michelle Chacon, one of Emmett's nurses at PCH.
Chacon said the small, round lithium batteries present a greater danger because they don't have as much casing as a AA battery.
And since these batteries are used in everything from greeting cards to watches, Chacon has helped Emmett's family start a non-profit to raise awareness about the dangers that batteries can pose to kids if swallowed.
"You talk about childproofing your home and covering your outlets, and this needs to be a part of that," said Chacon.
"I knew that they needed financial help to get their non-profit organization going," said Joan Arrington, Emmett's great-grandmother.
So Arrington emailed CBS 5 and nominated Chacon for our Pay It Forward segment.
"I wanted to help defray the legal expenses that come with starting a non-profit,"Arrington told Chacon as she surprised her with the $500 reward.
Back at the hospital, Emmett snuggles in with his stuffed animal and dozes off for a nap.
Emmett was born three months early, so he already beat the odds once.
Now this little fighter is trying to do it again.
If you would like to learn more about Emmett's story and the Rauch family's mission to raise awareness about the dangers of batteries to kids, please visit http://www.emmettsfight.com or http://www.facebook.com/pages/Emmetts-Fight/115352658543728.
Copyright 2011 KPHO. All rights reserved.