Gilbert boy gets free service dog
Posted:
Updated: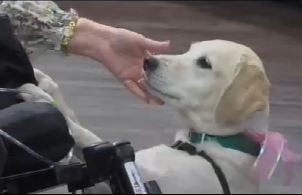 GILBERT, AZ (CBS5) -
A Gilbert boy now has a new best friend to help him through some challenging illnesses.
Jackson Thomas suffers from epilepsy and autism. On Thursday, a non-profit organization called Canine Assistants presented Jackson with a trained service dog at the Fry's Food Store on Baseline Road in Gilbert.
"If you have a sick child, you have that kind of heightened anxiety, that's kind of like what we live with Jackson all the time," said Erin Thomas, the boy's mother.
"That kind of constant anxiety, worrying about him, and someone's with him pretty much 24/7. Our hope with the dog is that it will give him more independence."
Training a service dog costs more than $20,000, but the money to get Jackson his dog was donated by Milk-Bone brand dog food and Fry's Food Stores.
Copyright KPHO 2011. All rights reserved.