"Move your money" day hits the Valley
Posted:
Updated: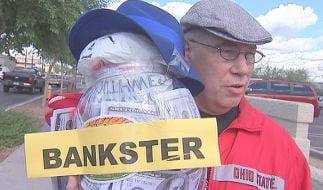 PHOENIX (CBS5) -
"Move your money," was the message coming from demonstrators Saturday, Nov. 5, as part of "Bank Transfer Day."
"Take your money out of the big banks and put it into community banks and into credit unions," said McKinley Thomas, one of the demonstrators. "Banks are too big to fail and the taxpayers had to bail them out," he said.
And that's the message these people are trying to spread. McKinley and several others gathered outside Chase Bank in Central Phoenix on Saturday where some of them actually pulled their own cash out of some of the biggest named banks in the business.
"This country needs to get out of the mess that we are in. We need jobs. We don't need banks, we don't need corporations that outsource their jobs overseas," said demonstrator Maureen Fauss.
The movement even hit Facebook. More than 45,000 people "liked" the page "Move your money project" and added comments about their plans to move their money.
The "Move your money" demonstrators also joined with the Occupy Phoenix movement later in the day downtown Phoenix were some people cut up their own credit cards.
"Today we are out here, we are cutting up our credit cards to symbolically cut ties with the big banks that have done so much harm and have stolen so much money from the American people," said Ezra Kaplan with Occupy Phoenix.
According to the Credit Union National Association, at least 650 thousand people have joined credit unions since late September when Bank of America announced a 5 dollar debit card fee. It was decided that the fee would not be charged after all.
Demonstrators that CBS 5 News spoke with Saturday said they believe their voice is being heard.
Copyright 2011 KPHO. All rights reserved.