Gila Bend residents report Prince Harry sightings
Posted:
Updated: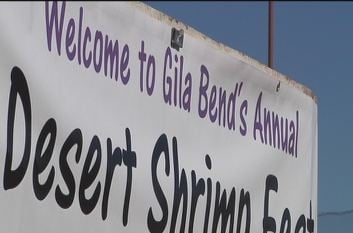 GILA BEND, AZ (CBS5) -
Sources tell us Prince Harry has been training in Gila Bend, where the desert conditions mimic those of Afghanistan, for about a week now.
"He's been sighted around town and he's among us," said Gila Bend Mayor Ron Henry. While our cameras didn't catch us, residents tell us they've spotted him at several local shops.
Residents and visitors alike at Gila Bend's largest event, the annual Shrimp Festival, are buzzing with the news. So we wanted to know - who's looking for their Prince Charming?
"Personally I would love to see him," said resident Debbie Croft.
"I am married, so I refuse to answer that question," joked Kristin Turner.
Friday night, the owners of Little Italy Pizzeria met the real Harry. While they wouldn't agree to an interview, they told us he came in and ate pizza.
"I think it's neat that he's here and doing local things," said Mesa resident Norma Tyler, who was visiting Gila Bend. But as the sightings grow, so do the rumors. We even heard the prince was having tea with the mayor.
"That's probably what it is, rumors," laughed the mayor.
While we've seen members of the British Army Air Corps at the Shrimp Festival, there's no sign of Harry. But, it's not too late for him to sign up for the shrimp eating contest.
We're told Prince Harry is training with Apache helicopters and will practice shooting missiles and cannons in the desert. We don't know how much longer he will be in Gila Bend, but some Air Corps members told us they are leaving soon for Afghanistan.
Copyright 2011 KPHO. All rights reserved.