3 charged in connection with toddler's methadone overdose
Posted:
Updated: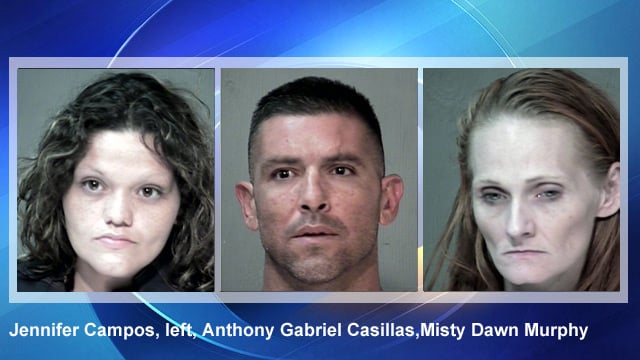 PHOENIX (CBS5) -
Three people face various child abuse charges in the case of a 2-year-old boy who suffered a methadone overdose at a Phoenix Motel 6 on Oct. 23.
Jennifer Campos, 25, Anthony Gabriel Casillas, 37, and Misty Dawn Murphy, 34, were charged in connection with giving the 2-year-old boy a mixture of Kool Aid and methadone, allegedly to ease pain from swollen gums and rotting teeth, according to court documents.
The toddler is one of three children of Campos and Casillas, the documents show. Jennifer Campos told police she, Casillas and their children were on the run from Child Protective Services, and were staying at various motels around the Valley to prevent CPS from taking the children.
When police and fire crews arrived at the motel at I-17 and Northern Avenue on Oct. 23, emergency crews found the boy not breathing and rushed him to the hospital.
According to court documents, an ensuing drug screening showed the toddler tested positive for methadone, amphetamine, acetone, and nicotine, and that he is not fully responsive.
Two other children in the room at the time of the incident are in CPS custody, police said.
Janice Campos told police that her daughter, Casillas and Murphy had agreed to give the child the mixture to help ease the pain.
Charges against Jennifer Campos and Casillas include four counts of child abuse and three counts of endangerment. Murphy was charged with three counts of child abuse.
Janice Murphy was not charged, though she and her daughter were initially held on outstanding warrants.
Copyright 2011 KPHO. All rights reserved.