'Massive' smuggling ring dismantled in Arizona
Posted:
Updated: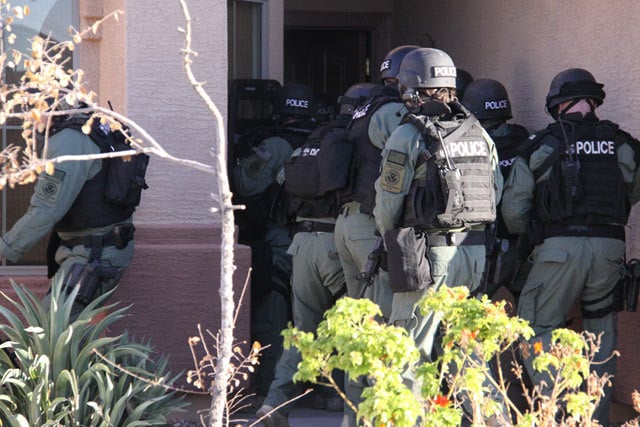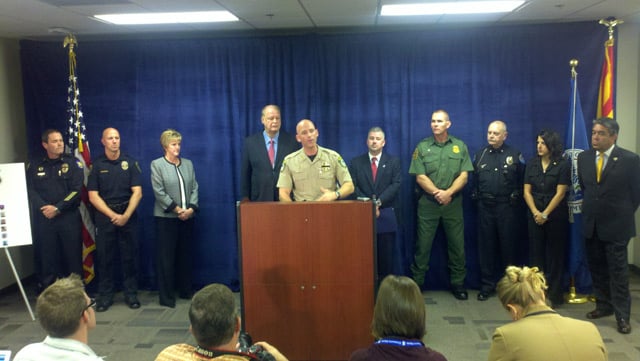 Pinal County Sheriff Paul Babeu at podium
PHOENIX (CBS5/AP) -
Arizona authorities said Monday that they've dismantled a "massive" drug trafficking ring responsible for smuggling more than $33 million worth of drugs through the state's western desert every month.
The agencies say the ring is believed to be tied to the Sinaloa cartel, Mexico's most powerful, and that it has been in operation for at least the last five years.
Officials say the ring, organized around cells based in the Arizona communities of Chandler, Stanfield and Maricopa, used backpackers and vehicles to move loads of marijuana and other drugs from the Arizona-Mexico border to a network of "stash" houses in the Phoenix area. After arriving in Phoenix, the contraband, which also included cocaine and heroin, was sold to distributors from multiple states nationwide.
Arizona Attorney General Tom Horne said it's also important to know that recreational drug users played a part in this.
"By engaging in recreational use of marijuana they are feeding these cartels that are engaged in extremely violent activities," Horne said. "And as you can see it involves millions of dollars. We need to get the message out to people that they're doing a lot of evil when they think that recreational use of marijuana is no big deal."
U.S. Immigration and Customs Enforcement officers estimate that the ring is responsible for smuggling more than 3.3 million pounds of marijuana, 20,000 pounds of cocaine and 10,000 pounds of heroin into the country during that time. They estimate the profits at somewhere around $2 billion.
ICE and the Pinal County Sheriff's Office arrested 22 suspected smugglers tied to the ring on Thursday, the latest of three busts that they say have brought it down following a 17-month investigation.
Authorities believe the organization has produced such huge profits by gaining a virtual monopoly over the smuggling routes along an 80-mile section of Arizona's international border, from Yuma to just east of the community of Sells.
CBS 5 News sent a crew to the rural Pinal County neighborhood that played a major part in the raid.
Reporter Elizabeth Erwin spoke with a man who saw the whole thing.
"I've been out here for 23 years. And I know everybody that does and what they've been doing," he said.
This man said he knows all too well what's happening next door.
"You've got from everything from meth, you've got marijuana, I mean they haul it in bales," he said.
He asked CBS 5 News not put his face on camera so he can feel safe.
"Every day out through here is just by the luck of your life," he said.
He said he's been lucky, considering who his neighbors are and what he said they've been up to.
"I've had nine rounds in the motor home, that was put in through the top of it. It's the cartels. All the guns go to these guys," he said.
And he said he was watching when the good guys came rolling in Friday.
"We was all on the roof going, yeah," he said.
He said he was happy dozens of suspected drug smugglers were carted off.
"Oh I'm relieved. They're finally starting to maybe take care of it," he said.
But what he said he saw over the weekend surprised us.
"(Sheriff Paul Babeu) hit all these houses out here, but yet he turned people right back that was arrested at these houses, right back out. They're over there, taking care of their animals, doing all their bulls***," he said.
CBS 5 News asked PCSO why some of those they arrested were allowed come right back home.
We're told not everyone they picked up was dealing, but that anyone involved in smuggling drugs, weapons or anything illegal was not allowed to come back home.
Copyright 2011 KPHO. All rights reserved. The Associated Press contributed to this report.