Ariz. Gov. Jan Brewer praises Ala. immigration crackdown
Posted:
Updated: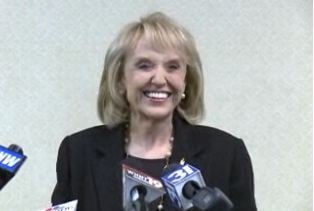 Arizona Gov. Jan Brewer is praising a new Alabama law targeting illegal immigrants.
Arizona was the first of several to adopt new measures meant to discourage illegal immigration. Challenged in the courts, the laws are likely headed for a review by the U.S. Supreme Court.
The governor was in Alabama on Friday promoting her new book, so KPHO asked CBS-affiliate WHNT to ask Gov. Brewer if this is really the best use of her time as governor.
"I've been governor now for the three years, prior to that I was secretary of state for six years, and during that time, and since I've been governor, I've had no holiday, no vacation, and I have been under the gun, under siege if you will," responded Brewer.
But a quick fact check shows Brewer just took a vacation to Alaska a few months ago, where she spent a little time with the family of former Alaska governor Sarah Palin.
"I was implored to write a book because we didn't believe that the liberal media and the cynical politicos out there were getting the message straight to the people," said Brewer. "They said, 'Tell the truth Jan,' and I am a truth teller, so yes, I think it's important the American people hear the story about what happened in Arizona, straight from the horse's mouth, and I tell it like it is."
Brewer continued, saying that the "liberal media" has characterized Arizona's law as being driven by racism and bigotry. She said that it's not true and that Arizona acted because the Obama administration has not curbed illegal immigration.
Judges have blocked parts of Alabama's law. But provisions still standing allow police to check a person's immigration status during traffic stops and make it a felony for illegal immigrants to conduct basic state business.
Copyright 2011 KPHO. All rights reserved. The Associated Press contributed to this report.