Pay It Forward: Police cadets rescue hiker in distress
Posted:
Updated: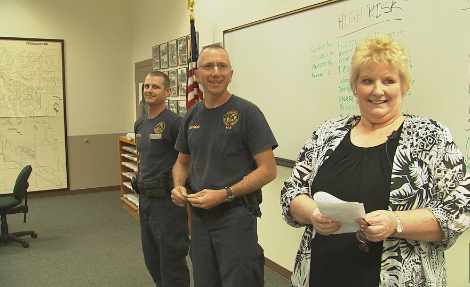 Tim Tretta, left, Paul Simpson, and Sandy Arieno
TUCSON, AZ (CBS5) -
We're riding along with police academy cadet Tim Tretta as he drives 45 miles per hour in reverse, then yanks the wheel so the car does a 180-degree turn.
It's what police officers are trained to do if someone starts shooting at them.
"This is really the front seat to the best show on earth. It's an opportunity to help people, it's a very fulfilling job," said Tretta.
Cadets get weekends off, so a couple weeks ago, Tretta and fellow cadet Paul Simpson went hiking at Fossil Creek near Strawberry, just north of Payson.
It's a beautiful, but strenuous hike.
"The only way out is up, so if you're having trouble getting in you're not getting out," said Tretta.
It's a lesson that Sandy Arieno of Mesa was busy learning the hard way.
"I was getting the worst headache I'd ever had in my life and I started looking in the distance to see if I could see the trail and my eyes were going black," she said.
Arieno, a former Air Force medic, knew that wasn't a good sign.
She and her friends had been lost along the trails for hours, and she was dangerously dehydrated.
"I was ready to start crying and just not move. I really did not think I was going to leave that valley," said Arieno.
Then, by a stroke of luck, Arieno's friends spotted Tretta and Simpson -- two guys who had just received their first aid training at the academy.
"This was my first experience as a first responder," said Simpson.
The guys stayed with Arieno and helped her re-hydrate until a rescue team showed up later that night.
In appreciation for what Tretta and Simpson did that day, Arieno emailed CBS 5 and nominated them for our Pay It Forward segment.
We set up the surprise at the police academy in Tucson.
Tretta and Simpson thought they were in trouble when their instructor called them to the front of the room.
Though Arieno was probably even more nervous when she walked into the room and saw a room full of police cadets standing at attention.
"Tim and Paul never left my side. They were my angels that day, "Arieno said in front of the class before she presented them with the $500 reward.
Tretta and Simpson graduate next week, and they had been thinking of giving something to the academy on behalf of the class, so they paid it forward too and donated the money.
Copyright 2011 KPHO. All rights reserved.