Closing arguments begin in 'Baseline Killer' trial
Posted:
Updated: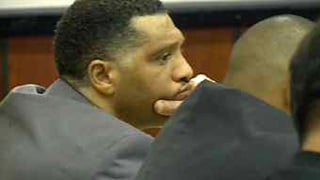 Mark Goudeau
PHOENIX (CBS5) -
Closing arguments have begun in the case against Mark Goudeau, the man accused of being the Baseline Killer.
Goudeau is charged with nine murders and dozens of other crimes in 2005 and 2006.
Goudeau sat quietly in the courtroom Monday as prosecutors painted one last picture of the former construction worker as a monster who murdered a lot of people.
"The time has finally come for this man to be held accountable and responsible for the terror that he has reigned for all of the victims that he has assaulted, violated, robbed, kidnapped and murdered," said prosecutor Patricia Stevens.
Goudeau faces 74 felonies including nine murders.
During closing arguments, Stevens told jurors not to be fooled by the defendant's good looks and seemingly pleasant personality.
Stevens called Goudeau a sexual predator with a desire for power and someone who's ordinary appearance helped lure his victims.
The prosecutor also said that the DNA evidence is uncontested.
"He has been identified beyond all doubt, by his DNA and the DNA of his victims and the property that he stole from them," Stevens said.
Attorneys for Goudeau have maintained that their client is innocent and that police got the wrong man.
The 47-year-old former construction worker has already been convicted for sexually assaulting two sisters in a South Phoenix park and was sentenced to 438 years in prison.
"He targeted innocent victims over and over and over again," said Stevens.
Defense attorneys are scheduled to address the jury on Tuesday.
If convicted, Goudeau could face the death penalty.
Copyright KPHO 2011. All rights reserved.