Wall Street protesters to rally in Phoenix, Tucson
Posted:
Updated: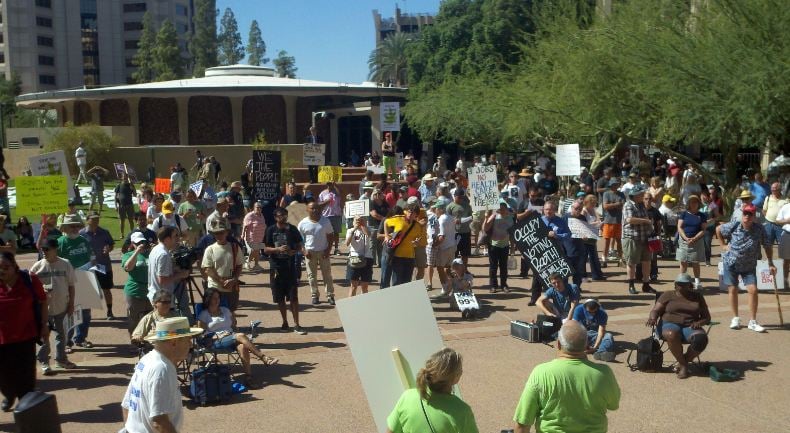 PHOENIX (AP) -
Anti-Wall Street protesters gathered Saturday in Phoenix and in Tucson as part of a series of protests across the country against financial institutions.
Organizers of the Occupy Phoenix event expected between 1,000 to 2,000 people at their rally that began at noon at Cesar Chavez Plaza in downtown Phoenix.
Hundreds of people were expected at the Occupy Tucson rally that began at noon at Military Plaza Park in Tucson.
One of the criticisms has been that the movement lacks a unified message, but today protestors in Phoenix said they have at least one thing in common: they all want to see something change.
"Everyone has their own reason for being here," said protestor Melaney Wells. Healthcare, taxes, corporate greed, you name it - nothing was off limits at Saturday's Occupy Phoenix rally. And everyone had a story to tell.
"My wife's out of work, she's a beautiful, talented, educated person and she can't find a job for nothing," said protestor Art Wahlers.
"We live paycheck to paycheck," said protestor James Washington.
"I've had to dig very much into my IRA just to survive," said protestor Linda Whitewolf. But some say the Occupy movement lacks leadership and even a common goal. Protestors in Phoenix disagreed.
"It's a way of showing that we all stand together," said Craig Slomin.
"We are on the same agenda of social justice," said Chester Marks. The Phoenix movement has been quick to distance itself from that of Wall Street after businesses there complained protestors were growing violent and bombarding their bathrooms. Protestors chanted, "If we get kicked out, we'll leave," and "we go to the capitol, we cannot use the bathroom."
While there were some signs of hostility at Saturday's event, there were plenty of police in case things got out of hand. We asked Phoenix police how many people they have here but they just said, "We're ready."
So are protestors, to keep the Occupy movement going.
"If it was a joke, it wouldn't be spreading the way it's been spreading: all over the United States," Marks said.
Groups have been turning out across the country to express anger over costly health care and rising unemployment and to cast blame on corporate interests for the economic pain they say all but the wealthiest Americans have endured since the financial meltdown.
The Occupy Wall Street protests started on Sept. 17 in front of
the New York Stock Exchange.
Copyright 2011 Associated Press. All rights reserved.