UPDATE: Drug cartel members arrested during AZ raids
Posted:
Updated: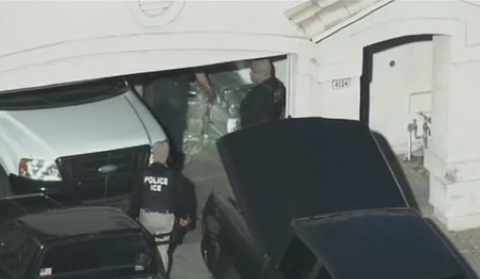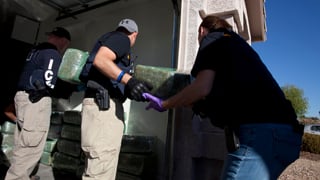 Courtesy of ICE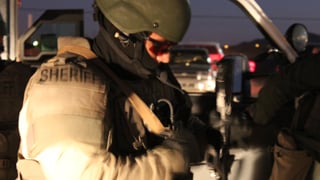 Courtesy of ICE
PHOENIX (CBS5) -
Key Mexican drug cartel members were among the arrests made by Immigration and Customs Enforcement agents and Pinal County Sheriff's deputies after serving warrants in multiple locations, including west Phoenix.
At least 17 suspected drug smugglers in central and southern Arizona have been arrested and authorities seized more than 935 lbs. of marijuana, 12 weapons, 1,000 rounds of ammunition and $35,000 in cash.
Law enforcement officials said the ring was moving smuggled narcotics from the Mexican border through the Arizona desert and into Phoenix.
Six search warrants were served in Casa Grande; two in Stanfield and one each in Phoenix; Tucson; Marana and on the Gila River Indian Community.
Vinnie Picard of ICE said the Phoenix warrant was served in the area of 109th Avenue and Monterosa. Helicopter news footage showed numerous packages in clear wrapping in the garage of the residence.
"It's a quiet neighborhood, that's probably why they picked this house," said a neighbor who wanted to remain anonymous.
"They were able to fill up two truck beds of marijuana," said Krista Wiedman, who lived right across from the home that was raided. "When I saw them loading up the marijuana, billow after billow, my mouth stayed dropped and I had never seen anything like it."
While she was surprised that drugs were stashed so close to her own home, she said you never really know your neighbors.
"What you do in the dark comes out in the light and it did today," Wiedman said.
Thursday's enforcement operation was focused on dismantling the Casa Grande drug smuggling organization. Authorities say that drug ring was responsible for smuggling up to 50,000 lbs. of marijuana a month through Arizona.
"With this operation, we've dealt a significant blow to the ability of drug smuggling organizations to move their narcotics through the West Desert into Phoenix," said Matt Allen, special agent in charge of ICE HSI in Phoenix.
Copyright 2011 KPHO. All rights reserved. The Associated Press contributed to this report.