New documents question whether Max Shacknai suffocated before fall
Posted:
Updated: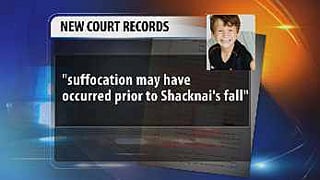 CBS 5 News has obtained new search warrants in the death investigations of Maxfield Shacknai, the son of valley resident Jonah Shacknai and Jonah's girlfriend Rebecca Zahau.
According to the court records, investigators said a trauma doctor at the hospital where the 6-year-old was treated said the boy may have suffocated before falling from the banister.
According to the report, Jonah Shacknai's girlfriend, Rebecca Zahau, had been in the bathroom for about 10 minutes when she heard a crash. She then found the boy lying on the floor face down with a broken chandelier next to him. Rebecca yelled for her 13-year-old sister, Xena, to call 911. Maxfield was taken to the hospital.
In a follow-up investigation, Dr. Brad Peterson said after four days of medical testing, they could not determine the cause of a cardiac arrest suffered by Maxfield Shacknai.
The search warrant goes on to say "Dr. Peterson did not feel the visible injuries were consistent with the cardiac arrest and brain swelling experienced by Shacknai. Dr. Peterson expressed concerns made based on the above factors, suffocation may have occurred prior to Shacknai's fall. Maxfield later died."
Search warrants also asked for belts, ropes, clothing, bedding, plastic bags, electrical cords, as well as other items capable of being used for strangulation or suffocation as part of the investigation into Max's fall.
Two days later, Rebecca Zahau was found dead at the same home where Maxfield Shacknai fell. The medical examiner has determined that she committed suicide.
Search warrants also show investigators asked for phone records between July 11 and July 13, as well as DVDs of camera recordings at the hospital to verify Jonah Shacknai's report that he was at the hospital prior to his girlfriend Rebecca Zahau's death.
Zahau's family is challenging the medical examiner's finding that Rebecca took her own life. Family attorney Anne Bremner said in a phone interview with a San Diego television station that her investigation is turning up some additional evidence.
"We are now confirming information from a witness that there may have been a cry for help from a woman in the mansion about 11:30 the evening prior," said Bremner.
Sheriff's investigators have not confirmed that report.
Copyright 2011 KPHO. All rights reserved.