Religious broadcaster's comments anger Alzheimer's families
Posted:
Updated: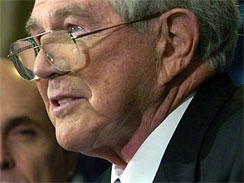 Pat Robertson
A well-known religious figure, Pat Robertson, is telling people it's OK to divorce your spouse if they have Alzheimer's disease.
His comments are getting attention, so CBS 5 News visited the Alzheimer's Association in Phoenix and a couple in the exact situation Robertson says it's OK to bail out of.
They said they don't plan to take his advice.
Jim and Judy McDonald have been married for more than 50 years.
"We're good friends, right down to the bones," Jim McDonald said.
But the last decade has tested that friendship.
Judy McDonald has been diagnosed with Alzheimer's.
"It's really tough, but, just kind of have to swallow it and keep marching on," Jim McDonald said.
His can-do attitude makes him the kind of caregiver we'd all be lucky to have.
"I guess it's because she's my best buddy," Jim McDonald explained.
CBS 5 News told him what Robertson told his 700 Club audience when asked to give an Alzheimer's couple advice.
"I know it sounds cruel, but he if he's going to do something he should divorce her and start all over again," Robertson said.
"Her soul is still here. She's not dead. She just has little problem with memory and thinking and functioning, but her soul is still in her body so I can't throw her soul away, that doesn't make any sense," Jim McDonald said.
"More often you see people rallying around the person with the diagnosis," explained Alzheimer's Association Desert Southwest Chapter spokeswoman Jill Erwin.
The people visiting the Alzheimer's Association for support aren't following Robertson's advice either.
"There is a lot of pressure on them to take care of this person, but we're certainly here to support them through that," Erwin said.
Jim McDonald said he's certainly not jumping ship.
"Well this is my responsibility, and this is my wife and we've been together 54 years, and she's still, she's still my wife even though her mind is not where it used to be. But the memory is still there. In my mind," Jim McDonald said.
There are plenty of resources for families faced with Alzheimer's here in the Valley.
For more information visit the Alzheimer's Association web site at http://www.alz.org/dsw/
Copyright 2011 KPHO. All rights reserved.