Fast food, brother's memory fuels AZ marathon runner
Posted:
Updated: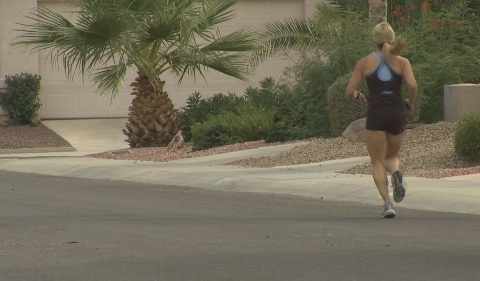 Emily Strunk-Helm
Emily Strunk-Helm is not your typical athlete.
She is training for the Long Beach Marathon, her tenth marathon, to raise money for the Ronald McDonald house.
But how she's doing it is what has people talking. She is fueling herself with fast food.
Looking at Strunk-Helm pound the pavement, you would never guess she's running on Big Macs, fries and Chicken McNuggets.
"To me, this is like a well-rounded meal," says the self-proclaimed "McRunnerette" as she points to the pieces of deep-fried chicken, french fries and burgers. "I've got carbs, I got protein."
The 36-year-old has taken on a challenge in a manner most hard-core athletes would never attempt. "This is what I eat. This is what I love," Strunk-Helm says.
She is eating McDonald's at every meal, every day, for 31 days.
And on that final day, she's running the Long Beach Marathon.
"I'm not a healthy eater. I never have been," she says. "People assume when they meet me, because I'm a runner, I eat healthy."
When not chowing down on Mickey D's, "I live on ice cream, candy, fast food, pizza. Strawberry banana smoothie - that's how I get my vitamin C," Strunk-Helm says.
Tuesday was day six of her fast-food regime.
And the junk food junkie didn't have any problems polishing off a cheeseburger and Chicken McNuggets.
She tells us it's not eating the food she's worried about.
"My biggest concern is the logistics of it, getting to McDonald's during the day. I don't eat three meals a day. I kind of eat all day long," Strunk-Helm says.
And there's no lack of motivation.
Strunk-Helm's quest is all about raising money for the Ronald McDonald house, a cause that's close to her heart.
When she was 13 years old, she lost a brother to brain cancer.
And before now, she says she has always run for fun.
"This is the first time I'll actually try to push myself and get a better time," she says. "I love running. I love fast food. If I can put the two together and raise money for charity, why not?"
To help Strunk-Helm raise funds for her cause, you can visit her website McRunnerette.com.
Copyright 2011 KPHO. All rights reserved.