Who approved a $300K taxpayer-funded salary?
Posted:
Updated: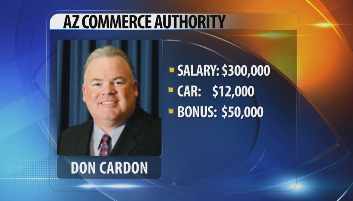 Don Cardon is the CEO of the Arizona Commerce Authority, a new joint public-private entity created to replace the old state Department of Commerce.
You pay his salary, but a board of directors names the price.
Now, some lawmakers say they overspent by giving Cardon a $300,000 base salary, $50,000 signing bonus, and $12,000 annual car allowance, all paid by the public.
"To me it looks like too much. I think it gives the State of Arizona a black eye," said Rep. Jack Harper, a Republican who represents Arizona's 4th legislative district.
Harper joined House Speaker Andy Tobin and Senate President Russell Pearce in voicing concern over the lucrative compensation package at a time when the state is slashing budgets.
We thought you deserved answers on why the board unanimously approved this package, so we tried to get them for you.
We called or emailed the offices of 10 of the board members.
Most, including Co-chairman Jerry Colangelo, either didn't get back to us or said they were not available for interviews today.
One board member, Stephen Macias, president and CEO of Pivot Manufacturing, hung up on us when we told him why we were calling.
"I'm running a business, I can't take any more calls on this. It's silly, bye," Macias said as we were still asking questions.
As for Gov. Jan Brewer, who hand picked the board, her office gave us this statement about Cardon's salary:
"The Arizona Commerce Authority has selected a compensation package for its President and CEO that is in-line with a recommendation offered by an independent firm with expertise in executive compensation, and commensurate with pay offered to executives of economic development agencies in other states. Competitive compensation was a must in order for the Commerce Authority to attract top-quality talent.
The Arizona Commerce Authority and its staff are an investment in the state's economic future. The success of Mr. Cardon and the Commerce Authority will pay long-term dividends to the state in terms of economic development, job recruitment and, ultimately, increased tax revenue.
That said, the Governor understands and is sensitive to the concerns relayed by the Speaker of the House and Senate President. The Governor has high expectations for the Arizona Commerce Authority. It needs to deliver."
Copyright 2011 KPHO. All rights reserved.