9/11 charity in Arizona has nothing to show for thousands of dollars it took from you
Posted:
Updated: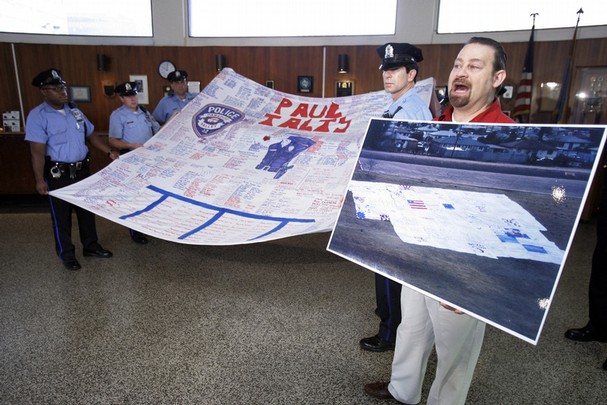 Kevin Held Promoting 9-11 Memorial Quilt
CHANDLER, AZ (CBS5/AP) -
After 9/11 many charities popped up to honor the victims and raise money for surviving families. One in our area promised to weave a quilt that would be more than a mile wide, pieced together from donated squares.
The founder of the charity, Kevin Held, moved into a $660,000 lakefront home in Chandler last May, but he is already moving out, coincidentally on the same day the Associated Press broke the story that he raised $713,000 for a massive 9/11 quilt and has practically nothing to show for it.
According to the investigation, Held paid $175,000 to himself as salary, $50,000 as a loan to his mother, $12,000 each to his two brothers for consulting fees, and another $170,000 on travel to promote the non-existent quilt.
Part of that sum would include a travel trailer decked out with decals for the American Quilt Memorial, attached to his Escalade parked outside his new home.
CBS5 News tracked him down with a moving van in the driveway. Here is the brief exchange.
"Hi, Kevin?" asked CBS5's Pat McReynolds.
"Not interested. Thank you," replied Held.
"Well Kevin, I'm Pat McReynolds, I'm with Channel 5."
"I understand that. Private property, please get off. Thank you. Have a good day," Held said as he started to shut the door.
"Kevin, can you answer some questions about the money you have taken from people, Kevin?" McReynolds asked through the closed door.
Held wouldn't answer questions from CBS5, but if you go to his website, Americanquiltmemorial.org, there is a picture of white sheets with some markings on them that is at least 4 years old. Remember, the final project was supposed to cover 25 football fields.
That image is accompanied by a statement that he is abandoning the project due to tough economic times, a claim at least one neighbor isn't buying.
"I can't believe that. He's building a quilt!" said neighbor Geoffrey Mobisson, who doesn't know Held, but he did know a good friend who died when the towers fell on 9/11.
"It's bad enough taking advantage of people based on their charitable intentions, but to do so on the basis of 9/11? I've got absolutely no empathy for someone who even thinks to do something like that. It's just evil," said Mobisson. "Don't let him get away with it!"
That's the intention of Attorney General Tom Horne, who confirmed to CBS5 that he has now launched an investigation into Held's charity.
"It's a really terrible thing that we have some people in society, unfortunately every society, has some people that have no conscience," said Horne.
In the eight years since Held launched the American Quilt Memorial charity, he has gotten school children and even police and firefighters to raise money for him.
But we now know $37,000 of those funds went to rent office space in his own home. A home he was quickly moving out of when we found him.
"If you make a commitment like this, and you make promises on the basis of something like, you do it!" said Mobisson.
Copyright 2011 KPHO. All rights reserved. The Associated Press contributed to this report.