Layer of dust blankets the Valley
Posted:
Updated: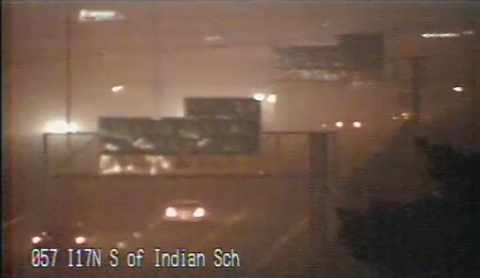 Early this morning a dust storm moved through the area, forming a layer of haze across the Valley. Visibilities were low, especially before sunrise.
The winds helped kick up the dust. At the Phoenix-Mesa Gateway Airport winds were up to 33 mph at 1:30 this morning. At South Mountain at 3:15 this morning winds were up to 20 mph. And around 3:15 a.m. winds were at 14 mph in Surprise.
There is a chance for isolated thunderstorms to develop later today, which would help settle the dust down.
As far as the heat, it continues today with the high at 113 degrees. We will probably break the old record of 112 degrees set back in 2001.
Our excessive heat warning continues for today and tomorrow. Highs by this weekend will be a little closer to normal (104 degrees) with temperatures around 108 degrees.
There will be a chance of isolated thunderstorms for the rest of the work week. By Sunday, we will see a shift in the weather pattern with drier air moving in and calmer conditions.
Copyright 2011 KPHO. All rights reserved.