Police: Man stuffs snakes in pants, gets arrested
Posted:
Updated: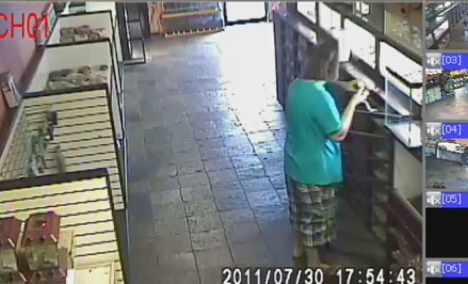 MESA, AZ (CBS5) -
It sounds like a bad joke, but it's not.
Eric Fiegel, 22, was arrested on theft charges Tuesday after police said he stole five snakes from Predators Reptile Center in Mesa.
Police said Fiegel stuffed the snakes in his pants and then chatted with people in the store before walking out.
Investigators released surveillance video of the incidents. In one incident, a man can be seen stuffing a snake into his pocket, then returning less than a minute later and swiping another one.
The snakes are baby sharp albino boa constrictors worth about $800 each. They are much more expensive than regular boas and other albino boas because of their darker, more colorful markings, according to store owner Christian Kaleta.
"It's pretty bizarre," said Kaleta.
Kaleta said the man was lucky he didn't get bitten.
"They're always active," said Kaleta. "It's amazing they stayed in the guy's pants as long as they did."
Kaleta said once he discovered the snakes were missing, he pulled up his surveillance video and figured out what happened. He said he called local reptile stores, and another store reported that a man had just sold and traded several sharp albino boas.
"The suspect was going to another reptile store, sold one, and traded three for equipment and store credit," said Sgt. Ed Wessing of the Mesa Police Department.
The other store, Arizona Reptile Center, returned the animals and filed a police report, according to Fiegel.
Police said Fiegel took some risks putting the snakes where he did.
"They are constrictors," said Wessing.
Copyright 2011 KPHO. All rights reserved.