Lofts at McKinley breaks ground in Phoenix
Posted:
Updated: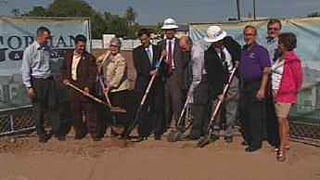 The Phoenix downtown is about to get much more luxurious, but this time the luxury won't come at a cost.
The Lofts at McKinley broke ground Wednesday morning in downtown Phoenix.

The new project will be a mixed community with an emphasis on those who are 55 and older. They will also be catered for those with a lower income level.

Developers say despite the lower price tag for the tenants, the amenities will not be cheap. Instead tenants will be met by doormen, high end appliances and even green products. They even plan on using recycled water for irrigation purposes.

Rent will range from $400 and capping out at $900. Those wanting to live there must qualify financially. Eligible tenants must have an annual income between $18,000 to $32,000.

Mayor Phil Gordon said the project represents the direction the city wants to take in revitalization. And developers say the project already has a waiting list of future tenants.

The Lofts at McKinley are expected to be complete by next year.
Copyright 2011 KPHO. All rights reserved.