Dirty Dining, August 11: Julioberto's, 10 violations
Posted:
Updated: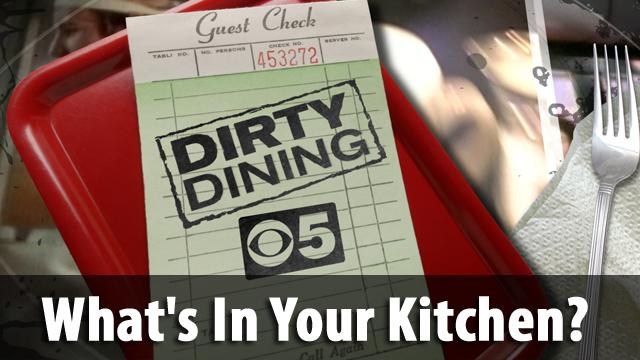 Every week CBS 5 News is sent a list of restaurants that have been recently inspected by Maricopa County's Environmental Services Dept. CBS 5 News selects five restaurants with some of the highest number of "Risk Factors." According to health inspectors, risk factors are considered major health code violations. For more details on the restaurant inspection scoring system visit http://www.maricopa.gov/
Shangri La
2992 N. Alma School Road
Mesa
6 violations
Jake's Grill and Bar
3321 E. Queen Creek Road
Gilbert
6 violations
Hollywood Alley
2610 W. Baseline Road
Mesa
7 violations
Moon Valley Cafe
502 E. Thunderbird Road
Phoenix
8 violations
Juliobertos
717 E. Glendale Rd
Phoenix
10 violations
Dean's List - perfect health inspection scores:
Burger King
5841 W. Thunderbird Road
Glendale
Village Inn
6813 E. Main Street
Mesa
El Taco Loco
16751 E. Williams Field Road
Higley
The Keg Steakhouse
23 S. McClintock Drive
Tempe
Federico's Mexican Food
8777 N. Grand Ave.
Peoria
Steve's Krazy Sub
1752 S. Signal Butte Road
Mesa
Copyright 2011 KPHO. All rights reserved.