Manhunt Monday: 2 sought in July shooting
Posted:
Updated: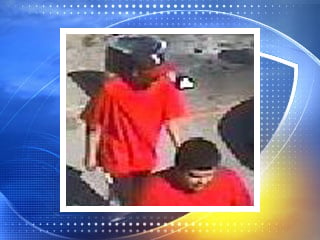 It was in broad daylight in July when a man jumped over the fence surrounding his apartment complex near 56th Avenue and Camelback Road.
He was taking a shortcut to a nearby store. Police say that's when two men approached him - one pulled out a gun and told him he was being robbed.
The victim fought back and broke away even as the suspects were getting the upper hand. That's when one of the suspects shot him in the shoulder.
Both men are described as around 19 years old and 5 feet 8 inches tall. Both wore red shirts, and one man had a large build the other a thin build.
Other fugitives
The U.S. Marshals Service is also assisting in locating two other fugitives.
They need help locating 31-year-old Jason Harris. He is a sex offender who failed to register. Harris is 5 feet 10 inches tall, 235 pounds with black hair and brown eyes. He also goes by John Harris and Joshua Tabuyka.
Another fugitive, John Smith, skipped out on facing dangerous drug charges. He is 44 years old, 5 feet 5 inches tall with a shaved head and brown eyes. He has a genie in a bottle tattoo on his right arm and a hand holding money on his left arm.
If you have any information on any of these fugitives, call Silent Witness at 480-WITNESS or 480-TESTIGO, or log on to silentwitness.org. All tips are anonymous.
Copyright 2011 KPHO. All rights reserved.