Dust storm hits East Valley; 1,300 without power
Posted:
Updated: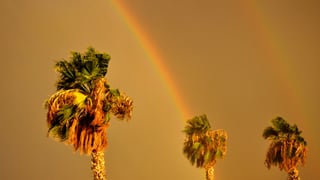 Diana Enns
A dust storm muscled its way into the east Valley Sunday night, dumping rain, kicking up winds and leaving some people with power through Monday morning.
At 4 a.m., SRP said 1,300 customers were still without electricity in Mesa, Apache Junction and Fountain Hills. Earlier, at the height of the storm, as many as 3,500 customers were in the dark.
APS estimated about 1,300 customers were without power in central Phoenix.
"This one moved up from Casa Grande and arrived in the East Valley between 6 and 7 p.m.," CBS 5 meteorologist Jason Kadah said.
"It was smaller and not as widespread as the dust storms we had last month," Kadah said.
The storms brought sustained winds of 30 to 40 mph, with gusts of up to 65 mph, according to the National Weather Service.
By 9:30 p.m., thunderstorms with heavy rain had reached downtown Phoenix.
They left downed trees and power lines in their wake, even picking up billboards and brining them down on top of houses and businesses.
Northeast Mesa saw the most rain with 1.6 inches. Queen Creek had 1.1 inches of rain and the Casa Grande area got an inch.
The area around Rural Road and Chandler Boulevard seemed to be especially hard hit.
Viewers sent in photos and videos of dark clouds, dust blowing and rain falling. Browse through the images in our KPHO.com photo gallery.
CBS 5 News has crews collecting damage and updated power outage reports. Please let us know what you're seeing in your part of town by sending your pictures to cbs5news@kpho.com.
Copyright 2011 KPHO. All rights reserved. The Associated Press contributed to this report.