Horne: Quartzsite officials may have broken open meeting law
Posted:
Updated: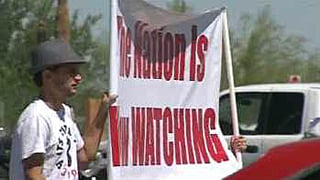 QUARTZSITE, AZ (CBS5) -
It's the small Arizona town getting national attention for all the wrong reasons.
Arizona Attorney General Tom Horne said his office is now investigating allegations of corruption, harassment and secret meetings in the town of Quartzsite, located west of the Valley.
Earlier this month, activist and local newspaper publisher Jennifer Jones was arrested at a public meeting while trying to address the Quartzsite Town Council.
Horne told CBS-5 News Friday that the meeting on July 10, may have been illegal and violated the state's open meeting law.
"If what's involved is an innocent misunderstanding,then probably training is the remedy," said Horne. If there were meetings done deliberately to withhold information from the public, then there's the possibility of people being removed from office."
The AG's office has been flooded with calls and e-mails recently from Quartzsite residents complaining that their town is out of control.
The mayor, town manager, police chief and town council members have all been accused of misusing their power and conducting meetings without public notice.
Horne's office is now investigating all allegations, including some "so called" emergency meetings that may have been held behind closed doors.
Government agencies are required by law to make the public aware of all meetings and provide an opportunity for public comment.
According to Horne, emergency meetings are not exempt from notifying the public.
"Open meeting laws are based on the premise that sunlight is the best disinfectant, and if people can see what's going on and participate, we'll get better discussions," said Horne. "If people meet in secret and the public is not there, it violates the law and its our job to enforce it."
Copyright 2011 KPHO. All rights reserved.