FBI Profiler reacts to local cases
Posted:
Updated: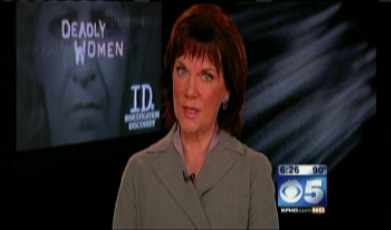 FBI profiler Candice DeLong talked with CBS 5 about some prominent Valley cases as she prepares to launch her new season of "Deadly Women," on Investigation Discovery on Friday night.
She has worked some of the FBI's most memorable cases, from the Unabomber to taking-down terrorists and gangsters.
Now, she has focused her sights on women who kill.
We are a society fascinated by the drama of the motive and mystery of high profile murder cases. We just saw it play out with the Casey Anthony trial.
DeLong says, there is a definite distinction between male and female killers.
"When women kill, it's generally for different reasons and it's a different style than when men kill," DeLong says. "Women are more methodical, their crimes are more premeditated. They generally kill more quickly, the murder has a purpose and the purpose is to get rid of that person."
CBS 5 asked her about the 22 year old case of Phoenix mom, Debra Milke. Milke was convicted of masterminding a plan to have her toddler son murdered out in the desert, under some sort of ruse they were taking him to see Santa Claus. Milke is still trying to appeal from death row.
What's the psychology behind convicted killers like her?
"When children are murdered, at least in America, it was the parents who did it in 75 to 80 percent of the cases," DeLong says. "It's not to say all the times it was premeditated. Often times, it was involuntary manslaughter. But about 20 percent of the time, it was premeditated."
Another femme fatale case is about to start trial here in the valley.
Jodi Arias is accused of premeditated murder for killing a Mesa motivational speaker and entrepreneur.
Police say, they'd been dating on and off when she moved to town to be closer to him.
Despite damning evidence, police found pictures of his murder, time-stamped seconds after images of the two naked together in his home, she still insists on her innocence.
DeLong says, we shouldn't rush to judgment and follow the flock of people asking why the case is even going to court."I think we all said that about Casey Anthony too, so we need to watch out!"
"I would love to hear her explanation of how those photographs of them intimately engaged were so closely time stamped. It'll be fascinating to hear what her explanation, or her attorney's explanation of that is," DeLong says.
Arias first told police she was not involved, then said two people broke into his home, killed him and attacked her, then later changed her story a third time, saying she killed her ex in self-defense.
Prosecutors are going for the death penalty.
DeLong says she'd love to pick those cases apart in even more detail.
You can tune-in Friday nights for her expert take on the psychology and criminology behind some of the most fascinating female killers in America in Investigation Discovery's "Deadly Women."
Copyright 2011 KPHO. All rights reserved.