McCain: 'Country won't go into default'
Posted:
Updated: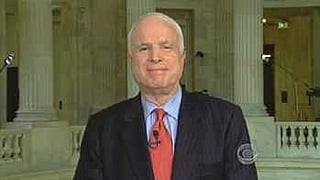 WASHINGTON (CBS5/AP) -
Arizona Sen. John McCain said on the "CBS Evening News" Thursday he believes the U.S. won't go into default for the first time in history.
His comments came as House Republicans struggled to push through their own plan to raise the national debt ceiling and cut federal spending.
A vote was unexpectedly delayed Thursday afternoon and no reason was given. Speaker John Boehner has been summoning lawmakers who have been holding out.
"The Republicans who are very reluctant to vote for this short-term fix campaigned on the promise to their voters that they would make very deep and significant cuts," McCain said. "So I am in some sympathy with the dilemma they are in."
McCain said he thinks people are becoming more and more aware of the consequences, not only in the U.S. but worldwide.
"I believe that the American people have very different views about what we're in," McCain said. "But one major view is disdain and even larger than that, they want us to sit down and agree to something because they don't want this government to deprive them of the services they need."
Investors anxious about the stalemate swept across Wall Street on Wednesday and drove the Dow Jones industrial average down almost 200 points.
Copyright 2011 KPHO. All rights reserved. The Associated Press contributed to this report.