Homeless veteran numbers grow at an alarming rate
Posted:
Updated: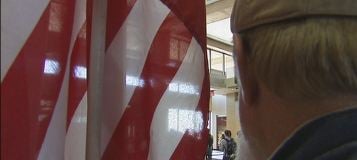 The statistics speak for themselves.
The number of homeless veterans who served in Iraq or Afghanistan has doubled three times since 2006.
Too many of the men and women who spent months fighting for our freedom come home to nothing.
At 26, Alexander Scott is about the same age as many of our newest veterans.
"I actually got back, this time last year," Scott said.
After serving 18 months in Iraq, Scott was ready to come home and start his civilian life.
"I actually wanted to go to school," he said.
Unfortunately, adjusting to life after Iraq was easier said than done.
"I was staying with my cousin and just recently he kicked me out on the curb," Scott said.
With no place to stay, Scott joined the ranks of a new troop. It's one that no one wants to be a part of.
Figures just released from the Department of Veterans Affairs show about 10,000 Iraq and Afghanistan war veterans nationwide are homeless.
Experts said Arizona is at the top of the charts.
"We're also seeing them become homeless faster than their counterparts from Vietnam," said Homeless Veterans Services Coordinator Brad Bridwell.
Bridwell said there are two main factors. One is the economy. The other is what happened to Scott.
"What we're seeing is families live further apart, they're a little more, potentially, disconnected than they were in the past so we're seeing a lot more rapid decline into homelessness when people are struggling," Bridwell said.
Fortunately there are answers.
Scott is staying in transitional housing with U.S. Vets while he gets back on his feet.
If you or someone you know is a homeless veteran, call the national resource line for homeless and at risk veterans.
The number is 877-4-AID-VET.
For information on programs offered by the Department of Veterans Affairs visit http://www.va.gov/.
Copyright 2011 KPHO. All rights reserved.