Valley Man takes Agent Orange claims to Korean assembly
Posted:
Updated: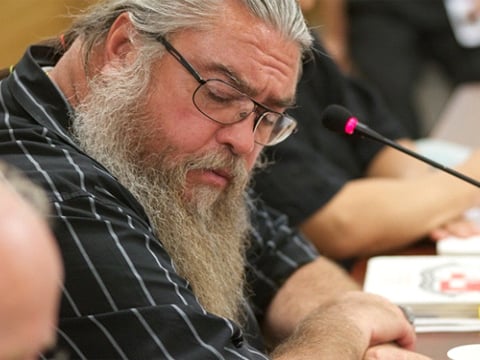 Steve House
SHOW LOW, AZ (AP) -
A Valley man took his claims that he's living with the toxic aftermath of Agent Orange to the Korean National Assembly in Seoul on Monday.
Veteran Steve House of Apache Junction testified before Assembly leaders on his role in allegedly burying toxic chemicals on the U.S. military base Camp Carroll in South Korea.
"I'm here because this has been weighing heavy on my heart for a long time," House told the Assembly.
The CBS 5 Investigates team first broke the story back in May when they reported the claims of three military whistleblowers. The team found three soldiers all stationed at the camp during 1978 saying the exact same thing - that they were ordered to dig a hole the size of a city block and bury several hundred drums of Agent Orange and other chemicals at the camp. The probe sparked the Department of Defense to launch an investigation.
The initial CBS 5 investigation took our crew across the U.S. and now to Seoul as the latest developments unfold.
Veteran Philip Steward also testified before the Korean Assembly. He was stationed at a different base in South Korea during the late 1960s.
Stewart told assembly members he ordered soldiers and witnessed them spraying Agent Orange, a defoliant widely used during the Vietnam war, across Korea to prevent North Koreans from crossing the border.
The U.S. government claims Agent Orange was only used along the DMZ.
"Members of the assembly, I'm here to tell you that's not true," Stewart testified.
The exclusive CBS 5 investigation, which has become front-page news across South Korea, exposed that South Koreans living around the base could also be in danger, if the chemicals have seeped into the groundwater.
Monday's testimony could eventually lead to the U.S. military being forced to disclose all military operations involving Agent Orange.
"I've taken this as far as I can take it," House testified. "I'm running out of time. It's up to you to take it the rest of the way," he told the Assembly.
Earlier this month, a joint investigative team of U.S. and Korean officials found evidence of what could be the metal drums that were buried. The joint task force used a process called "Electrical Resistivity" to see underground. In the next step in the investigation, the team will take soil samples from the helipad area.
Copyright 2011 KPHO. All rights reserved.