Victims of Arizona wildfires now battling insurance companies
Posted:
Updated: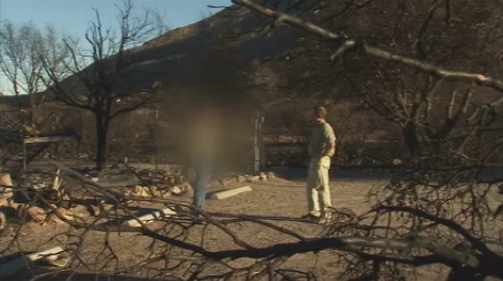 SIERRA VISTA, AZ (CBS5) -
Victims of Arizona's extreme wildfire season are getting a second round of bad news.
The Monument Fire near the town of Sierra Vista was not the largest fire in state history, but it whipped through tree-covered mountains and wooded neighborhoods with a speed that caught everybody by surprise.
"This was the most beautiful place in the world to live," said one homeowner, who did not want to be identified.
He lost his home in the fire.
"I stayed until the moment my house burst into flames," he said.
He was brave enough to face the wall of fire, but fear of his insurance company prevented him from showing his face on camera.
"I think there would be retribution against me for speaking out against them," he said.
He's one of dozens of Monument Fire victims preparing for a showdown with their insurers. The problem: They've discovered they were underinsured.
"It means that I couldn't possibly rebuild my house for what I was insured for," continued the unidentified homeowner.
He said he really didn't think about whether he had enough insurance to take care of everything.
It's not just the homeowners who lost everything. People whose homes were spared by the fire are also finding that working with the insurance companies has been tougher than they thought it would be.
"I was just thankful my house was still standing," said one woman, who also asked CBS 5 News to protect her and her husband's identities.
Their home survived the flames and looks damage-free. But take a smell and look closely, and you'll see the smoke and ash took a toll.
"We couldn't get things clean," said the husband. "We couldn't get the smell out - the smoke smell. We started talking to the insurance company; they don't want to cover anything."
An outside expert estimated the damage at $20,000.
The husband said he "most definitely" would expect his insurance company to pay for the damage.
"That's why I pay insurance," he said.
But Peter Romero, a licensed insurance adjuster, said, "It isn't the insurance company's job or obligation to teach you how to recover the maximum from them."
Romero helps disaster victims get the claims they are entitled to. He says insurance companies intentionally low-ball their customers when selling policies, and when paying them out.
Romero said, "I've worked 22 disasters, and I have not found one where the majority of the property owners were properly insured."
Romero told CBS 5 News that all 30 property owners he's spoken to in Sierra Vista who lost their homes were underinsured.
Ron Williams represents a dozen of the largest insurance companies operating in Arizona. He says that under Arizona law and regulations, it is the responsibility of the homeowner to make sure their home is properly protected.
He admits underinsuring is a big problem homeowners "should" be aware of.
"It is to the benefit of both the consumer and the insurance company to make sure your property is valued at the right level," he said.
So why is it still a problem?
"It's a problem of education, and we still need to do that," he said.
The showdown with the flames of the Monument Fire flames is over, but on the horizon is a fight with the insurance companies that had policies in the fire's path.
"I don't think anybody should have to go through it, and if we're having to do it with comparatively the minimal damage we had, I can only imagine what the people who lost their homes are going through," said the husband.
Copyright 2011 KPHO. All rights reserved.