Dirty Dining, July 21: Swaddee Thai Cuisine, 8 violations
Posted:
Updated: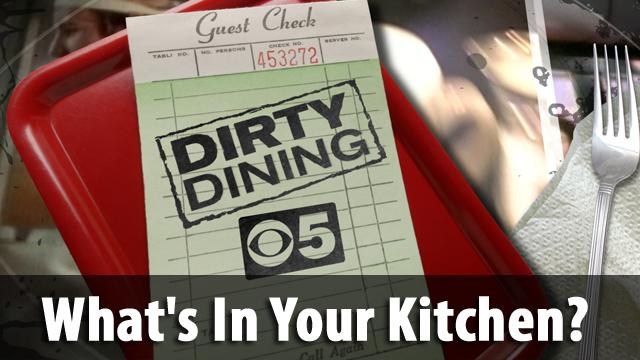 Every week CBS 5 News is sent a list of restaurants that have been recently inspected by Maricopa County's Environmental Services Dept. CBS 5 News selects five restaurants with some of the highest number of "Risk Factors." According to health inspectors, risk factors are considered major health code violations. For more details on the restaurant inspection scoring system visit http://www.maricopa.gov.
Juliobertos
3218 E. McDowell Road
Phoenix
5 violations
Troon Golf and Country Club
25000 N. Windy Walk Drive
Scottsdale
6 violations
Pong Pong Chinese
3332 W. Bell Road
Phoenix
6 violations
Oasis Raspados
6702 W. Camelback Road
Glendale
6 violations
Swaddee Thai Cuisine
5055 W. Ray Road
Chandler
8 violations
Deans List - perfect health inspection scores:
Jamba Juice
1804 S. Signal Butte Road
Mesa
Manuels
12801 N. Cave Creek Road
Phoenix
Souper Salad
7480 W. Bell Road
Glendale
Applebees
8001 W. Bell Road
Peoria
La Grande Orange Pizzeria
4410 N. 40th Street
Phoenix
Affinito's Bistro
3655 W. Anthem Way
Anthem
Copyright 2011 KPHO. All rights reserved.