PETA stops dog sweat lodge billboard
Posted:
Updated: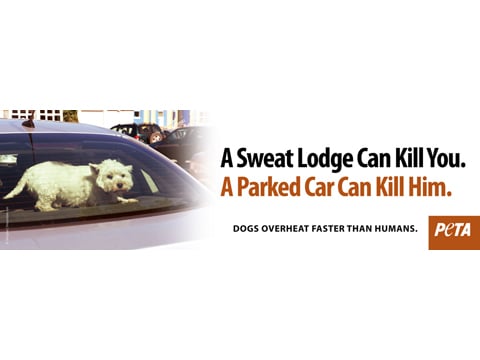 People for the Ethical Treatment of Animals has decided to stop its dog campaign billboard that was going to have a quote in reference to the conviction of self-help guru James Arthur Ray.
A billboard that was being debated with outdoor advertisers and PETA was going to show a distressed dog in a parked car next to the caption, "A sweat lodge can kill you. A parked car can kill him. Dogs overheat faster than humans."
According to a press release, PETA's billboard was designed to reach people about leaving their dogs inside their vehicle in hot weather, since they receive reports of such incidents every year.
PETA said they recognized every situation is different after a family member of a sweat lodge victim commented on the quote saying, "they get what PETA is trying to accomplish, but trivializing the deaths of three people isn't the way to go about it."
PETA said they have every intention of honoring the families' wishes.
"Although we will not proceed with the billboard, we will continue to bring attention to the truly life-and-death danger of leaving dogs in parked cars in summer," Tracy Reiman, the PETA executive vice president said.
PETA will replace the ad with a new quote saying, "Too hot for spot? In hot weather, leave dogs at home," with an animation of a dog in a vehicle.
Copyright 2011 KPHO. All rights reserved.