Anthony case eerily similar to Elizabeth Johnson, Baby Gabriel
Posted:
Updated: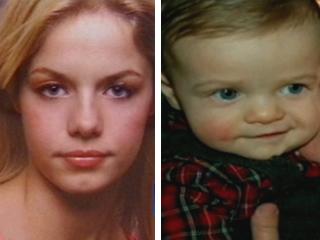 As the rest of the country digested the controversial outcome in the Casey Anthony trial, many residents of the Valley couldn't help but draw comparisons to another case involving a small child: That of missing Baby Gabriel and his jailed mother, Elizabeth Johnson.
Among the many extreme and passionate reactions to the Casey Anthony verdict, was an Internet post from a Valley man who's opinion should matter more than most.
Logan McQueary, the father of Gabriel Johnson, a boy who has been missing for a year and a half after his mother, Elizabeth Johnson, fled with him to Texas.
McQueary wrote of the verdict, "Casey Anthony not guilty? Total 100% B. S. ... There is a God/Higher power out there ... and she will get what's coming to her. I hope she does go to Hell..."
There are striking similarities in the cases of Elizabeth Johnson, who turns 24 this month, and 25-year-old Casey Anthony.
Both are attractive young women accused of unspeakable crimes against their own children.
Casey Anthony never actually confessed to killing Caylee, but the girl's body was found in the woods just 15 houses away.
Gabriel Johnson is still missing, but who could forget the chilling phone conversation obtained by CBS 5 News between Elizabeth Johnson and McQueary shortly after Gabriel disappeared.
"You made me do this," Johnson told McQueary.
"You did not hurt Gabriel," said McQueary.
"Yes I did. I suffocated him. I suffocated him and he turned blue. I put him in a diaper bag and put him in a trash can," Johnson confessed.
Johnson has since changed her story, saying now that she gave her boy away to strangers in a Texas park.
Casey Anthony also changed her story several times, at one point saying she gave her daughter to a babysitter, before eventually settling on Caylee drowning in a family pool.
Elizabeth Johnson's troubled childhood is well documented, and she also claimed McQueary abused her.
But the truth, police reports show, is that she was the one who was violent towards him.
In a courtroom shocker, Casey Anthony claimed she was sexually abused by her father.
That claim was never proven.
After Caylee died, Anthony was seen partying it up at night clubs in Florida.
Johnson also fled to Florida to start a new life free of responsibility, but that's where the law tracked her down.
Both cases have also garnered incredible media attention, with captivating plotlines, characters seemingly out of central casting, and dramatic turns of events.
But for every similarity, the major difference is the most disheartening.
Gabriel, who would now be 2 years old, has not been found.
The murder investigation against Johnson is stalled in Texas, and charges may never see the light of day.
Her trial date for abuse and kidnapping in the Valley is set, but Johnson's mental state is still in doubt, and she may never be deemed fit to stand trial.
Copyright 2011 KPHO. All rights reserved.