Wallow fire swallows kids' summer camp
Posted:
Updated: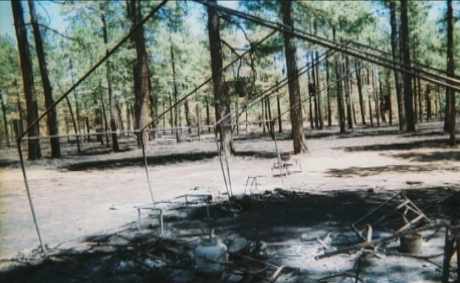 WHITE MOUNTAINS, AZ (CBS5) -
For the past 15 years, Arizona Outdoor Adventures has brought hundreds of underprivileged kids out of the Valley heat and into the woods of the White Mountains for summer camp.
Dan Priest, the founder of the non-profit camp, was evacuated on June 1 due to the Wallow Fire. He had just set up all of the equipment for this summer season. For the past three weeks, he was holding out hope that the fire had spared his campsite.
"We thought we might be able to salvage something," Priest said, "but when we got in there, everything was just ash."
The fire incinerated seven large tents, the camp truck and Jeep, along with all of the equipment.
Priest's two daughters, Lindsay Forelli and Deann Potts, are rallying to rebuild their father's campsite.
"I was so heartbroken for the children that my dad had to call and say, 'I'm sorry, this is cancelled,'" Forelli said.
The camp is funded by private donations to provide children with camp scholarships. The camp works with nonprofit organizations in the Valley to identify which children could benefit from a week in the mountains.
"What's so enjoyable is to see the smiles on the kids' faces," Priest said, "and to see them reel in a fish, and to see them bring the fish into camp, and we cook it up."
Arizona Outdoor Adventures is hoping for enough donations to replace the camp's equipment before the end of the summer.
"Fifteen years ago, we started with a couple of tents, and that's what we'll start with again," Potts said.
"We're just hoping that people have a heart like my dad's and a heart to see the children in the outdoors." Forelli said. "We hope we can start over and won't have to cancel the rest of the season."
Copyright 2011 KPHO. All rights reserved.