Monument Fire explodes; Brewer declares emergency
Posted:
Updated: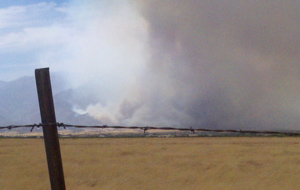 The Monument Fire has doubled in size since Thursday night, exploding to 18,580 acres and dropping from 17 to 15 percent containment, fire officials said Friday morning.
Gov. Jan Brewer signed an emergency declaration in response to the Monument and Horseshoe Two fires in Cochise County. The declaration releases $100,000 for emergency expenses.
The Cochise County Sheriff's Office says the fire is moving down Miller Canyon and is closing in on Highway 92. Mandatory evacuations are under way on the west side of Highway 92.
Highway 92 is closed at Ramsey Road on the north and Palominas
Road on the south. All traffic coming from Bisbee to Sierra Vista
should not use Highway 92.
Fire officials confirmed the fire was caused by humans on Coronado National Memorial adjacent to the U.S. and Mexico border
Due to extreme dry fuel conditions, high winds, and single-digit relative humidity, a Red Flag Warning was in effect Friday.
Officials said the update on the fire's toll is 47 burned homes and 14 out-buildings destroyed in the Coronado National Forest near Sierra Vista.
Wind gusts of up to 35 mph Thursday pushed flames to the east side of Highway 92 and forced more evacuations.
Authorities said an estimated 1,700 families were evacuated, bringing the total to 3,200 families since the fire started Sunday near the Mexican border.
Some residents were allowed to return home Thursday night but authorities say they could face evacuations again Friday morning.
Nearly 1,000 area residents attended a community meeting Thursday night in Sierra Vista, where they heard the latest developments on the fire, which jumped Highway 92 and started burning east of the highway on Thursday.
Homeowners were told a number of homes in Stump Canyon had burned. However, officials said no homes east of Highway 92 have been lost through Thursday night.
Authorities said they believe the fire is human caused.
Copyright 2011 KPHO. All rights reserved. The Associated Press contributed to this report.