Rodeo-Chediski survivors offer advice to Wallow victims
Posted:
Updated: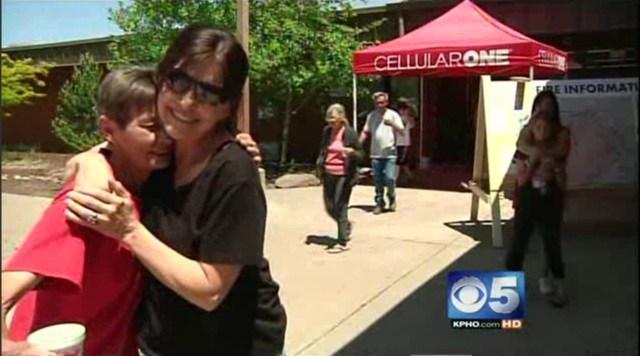 HEBER, AZ (CBS5) -
As Wallow Fire evacuees head home, not knowing what they might find, CBS 5 News sat down with people who survived the last big Arizona wildfire.
Hearing the words Rodeo-Chediski are enough to make Richard Browne choke up.
"Memories of what it was, and all the people that, you know were," Browne said.
He's lived in Pinecrest Lake for nearly 20 years and was in his home when the flames crept closer.
"It was just terrible. It's devastation is all I can say. Looked like a bomb hit," said Browne's wife, Nancy.
"There was only 16 out of 200 that survived," she remembered.
The Browne's were lucky. Their site was one of them.
"You know, you see people sifting through belongings and, you know, it's tough," Richard Browne said.
"It took my breath away. It was just piles and piles and piles of ashes," Nancy Browne said.
"The forest is not the same but, it's still there. We can go out and find beautiful patches of forest," Richard Browne said.

"It looked like a moonscape, was total devastation. It was nothing," remembered Suzi Scott.
Scott wasn't as fortunate.
"We were basically homeless," she said.
Scott got the news her home was destroyed by watching images of the fire dance across her TV screen.
"That's how I knew our house was gone. I saw the windmill," Scott said.
Her windmill is the last reminder of what used to be here.
It was the sole thing standing when Scott came home.
"What are you gonna do? What can you do?" Scott asked.
She did what most others did, she rebuilt.
She said she knew this was her home, and that where such loss stood nine years ago new life would shine through.
"It'll get better. It takes awhile but, keep the faith and it's worth it. Because you still have the mountain. There's a few less trees, but they will come back too," Scott said.