Ladmo Biography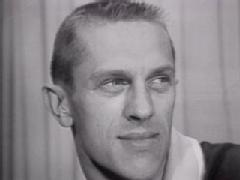 Ladimir Kwiatkowski was born July 13, 1928.
He was a mischievous boy -- as mischievous as a son of a Cleveland juvenile police detective could be.
"Laddie Boy", as he was often called, was the kind of kid who was good to have as a playmate. His friends nicknamed him "Slats" because he was so thin. He was always active, whether he was playing sports or dancing to his grandmother's Polish music records.
Lad was the kind of kid who wanted to take up the drums."But my folks wouldn't let me," he recalled. "They said 'play the saxophone or the piano'. I should have gone with the piano."He was the kind of kid who played a minor part in a grade school play then decided drama was not for him."I did one show -- A Christmas Carol -- in grade school and I did not want to be on stage again," he remembered, noting that he had knocked a screen over during the play. "I was so embarrassed, I didn't want to do anything after that."
Lad Gets A Baseball Itch
Instead of pursuing a career on stage, Lad concentrated on sports -- particularly baseball.
He informed his parents, Walter and Florence, that he wanted to become a major league baseball player. Lad went to church each Sunday -- he and his family were devout Catholics -- but he would be dressed in his baseball uniform ready to dash out to the diamond after Mass."I would have played football, but I was too small," he noted. "But baseball -- it was fast and I loved the game."Lad never had formal coaching in his favorite sport until he got to John Adams High School, where he honed his baseball skills.
After graduation, he left Ohio to attend Arizona State College in Tempe, along with a few high school buddies -- knowing that Arizona's climate would actually allow him to play baseball year round! Lad was a good player. He was on the varsity team four years, from '50-53. He led Arizona State in hitting in 1951 with a .358 average, including two doubles, a triple and a single against rival University of Arizona. He was made captain of the team the next year. Lad brought respect to a baseball program where players wore hand-me-down uniforms and official statistics were not yet kept.
He was pretending to play slide trombone to "Ragmop", a popular tune playing on a nearby jukebox, when Patsy Lou Killough first saw him. Patsy and Lad started dating soon afterwards. It was halftime at the Arizona State versus the University of Arizona football game that Lad proposed to Patsy. No getting down on one knee, no mushiness -- just a simple request: "Will you marry me?" She said yes and they were married on Mar 31, 1951.
Lad not only played sports, he wrote sports. He worked at the State Press, Arizona State's daily paper, writing a column on football called, "Kwiat's Kwikies". He graduated from the university with a journalism degree in 1953 and was offered a chance to play for a Cleveland Indians farm team. But Lad was not sure he wanted to invest the time slugging it out in the minors, especially with a wife and child at home. Plus, he liked Phoenix and he was intrigued by television."I saw the future in television," he observed.
Lad Heads To KPHO-TV
KPHO-TV was still the only television station in town, so Lad headed there."I went and applied for a job the day after I graduated, the day after I got my diploma," Lad grinned. "I went in at nine o'clock and at eleven o'clock, they called me and asked when I could start. At one o'clock the day after I graduated, I started at KPHO."It was a great education. Lad was assigned to help produce KPHO's slate of live shows.
He also cleaned and swept the floors, folded chairs, raised sets and eventually ran the cameras. And although he could see the future in television, Lad had no way of knowing what would happen next.
The Character "Ladmo" Is Born
Bill Thompson asked Lad to join him in January, 1956, as his sidekick on "It's Wallace?" They found a top hat in KPHO's prop room and put a sweater over a smock from Safeway. "Ladmo" was born. Through the decades, their routines together grew out of their close relationship. The Ladmo Show premiered in the summer of 1963, airing weekdays from 12-1 p.m. It was an instant success.The Ladmo Bag, with a toy and an assortment of sponsor's products, was born in 1965. "To have your product in a Ladmo Bag was an association with Wallace and Ladmo," Lad recalled.
On June 15, 1970, "Wallace and Company" officially became "The Wallace and Ladmo Show."In early 1972, Ladmo got his own cartoon show, Ladmo's Clubhouse, in addition to his regular stint.
On Friday, Dec. 29, 1989, "The Wallace and Ladmo Show" went off the air.
Ladmo died on March 2, 1994 of lung cancer. The entire state of Arizona mourned.