Bill Thompson Biography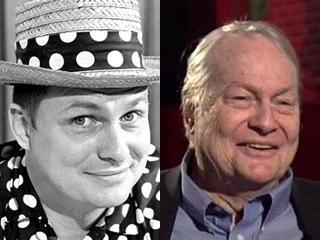 Before he was Wallace, he was Bill Thompson. He was born in New York City on Dec 18, 1931, the son of William and Marie Thompson and the eldest of three brothers. His father worked as an investment manager on the second floor of the Empire State Building."I was embarrassed to tell my friends about this," Thompson remembered. "I mean, if you're going to have an office in the Empire State Building, you should at least have an office on the 70th or 80th floor!"
His parents had vastly different style of humor."Pop spent too much time on the setups, '...on the third day the man went back to the doctor's office..' etcetera," Thompson said. "Mom, however, had good timing and new how to get to the punch line fast."She told Bill the first joke he remembers hearing:"What has four wheels and flies? A garbage truck!"("Mom always had socko material," Thompson noted.)In 1934, the Thompsons moved to Bronxville, 20 miles north of New York City in Westchester County, where the three brothers -- Bill, Boyce and Tony -- attended school.
Young Bill Takes To Acting
In first grade, Bill was a gingerbread man in the school's production of "Hansel and Gretel." His mother told him he was the best gingerbread man in the show. He believed her. As a result, many elementary, high school and college plays followed over the years."I never knew my lines and never hit my spot on stage, but I always managed to get a laugh and easily won the title of class clown form sixth grade on.
Being the class clown meant going to the principal's office a lot."In seventh grade, Bill wrote a six-page vocational report in a green folder. The first sentence was, "I want to make people laugh." The report went on to explain that he wasn't sure if he would be a cartoonist, comedy writer or funny guy on the radio, little knowing he'd end up doing all three.He got a C-minus on the report and his teacher, Miss Wetzel, told him, "It's time to get serious with your life.""If I had taken Miss Wetzel's advice," Thompson said, "I'd probably be selling vacuum cleaners at sears."
A pattern had been set.Through high school and later at DePauw University, he took all the courses he could on art, writing and performing -- "any class I thought would help me later in a comedy career."During the late '40s, Thompson started writing kids' stories featuring a character named Wallace Snead.Bill graduated from Bronxville High in 1950. The yearbook stated, "the class clown will be missed by his classmates, but not his teachers."The next year at DePauw, he had a part in a Noel Coward play."I was still missing my marks and forgetting my lines. By then I had perfected the art of wandering around stage and ad-libbing. Later on Lad, Pat and I were to elevate this style of performing to a science."
Bill Moves To Arizona
In 1952, Thompson married Donna Cope, headed west to Arizona and had three kids: Carrie, Annie and Tony.His first job in Phoenix was in the circulation department of The Phoenix Gazette, but every couple of months he would stop by KPHO-TV in the hopes of landing a job.In January, 1954, KPHO hired him for two jobs.He began creating a character called Wallace Snead and appears on "The Goldust Charlie Show."In January, 1955, "It's Wallace?" premiered, a kid's cartoon show. After a few months of going solo, Bill decided he needed a partner. In January, 1956, Lad joined him.
Show Evolves And Becomes Instant Success
In the summer of 1956, the Wallace Watchers Fan Club was created.Through the 1960's, the show kept evolving. On June 15, 1970, the program officially became "The Wallace and Ladmo Show."On April 3, 1974, the show celebrated it's 20th anniversary.Through the 1970's, Bill and the cast won Emmy's for their productions.On Dec. 29, 1989, the show went off the air. Bill spent his later years going to the movies and entertaining his grandchildren. He died on July 23, 2014 at age 82.