Peter Busch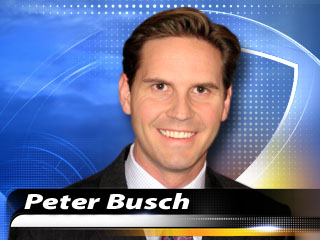 Peter Busch anchors the weekend newscasts and reports on weekdays for CBS 5 News at 10 p.m. Peter won the 2010 Emmy Award for General Assignment News Reporter in the Rocky Mountain region. This was the third consecutive year he won this category with a composition of visually creative live reports, which have become a hallmark of his reporting style.
Peter's primary focus is reporting on state and national politics for CBS 5.
In 2008, he traveled to New Hampshire for that state's presidential primaries. He also covered the Republican National Convention from St. Paul, Minn.
Those events were two of the signature moments of John McCain's presidential campaign.Peter joined the CBS 5 News team as a news reporter in October 2005.
Prior to that, he worked as a reporter for KVOA-TV in Tucson. He was sent to cover Hurricane Katrina as well as other major national stories during his time in Tucson.
He learned to speak fluent Spanish when he lived in Mexico City in 1999. Peter then went on to graduate with honors from the University of Arizona.
He now lives in Scottsdale with his wife Rachel, their two daughters Victoria and Vienna, and their dog Anheuser.