Man opens fire in convenience store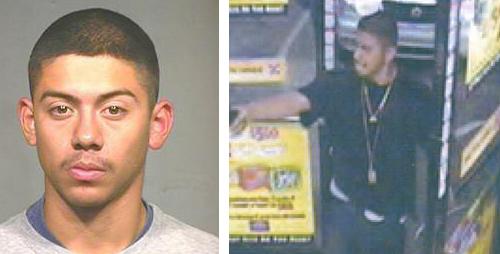 Heliberto Varela is wanted for allegedly opening fire inside a Valley convenience store, killing one person and wounding another, according to police.

Varela, 22, is on the run and should be considered armed and dangerous, police said.
A surveillance video shows Varela rushing into a Circle K at 59th Avenue and McDowell Road in June of 2007.
In the video, one person is shot in the shoulder and the clerk, Daniel Brady, was killed.
Wendy Brady, the victim's wife, saw flashing lights and ran to the store to check on her husband. "I got down there and saw everything taped off and the officer told me he was shot and that he was killed," Wendy Brady said.
Varela has been on the run since that night.
Silent Witness is offering a reward of up to $1000 on information leading to the arrest of Varela. Anyone with information is asked to call Silent Witness at 480-Witness.

FUGITIVE INFORMATION:

NAME: Heliberto Varela

AGE: 22

HEIGHT: 5'6"

WEIGHT: 150 pounds

HAIR: Black

EYES: Brown

WANTED: on charges related to a homicide.