3 men stole 6K in pills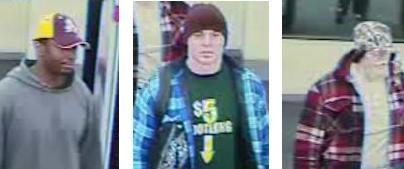 Three men are wanted for ripping off more than 6,000 prescription pills and tying up drug store employees at gunpoint in a Glendale pharmacy .

The three men used guns, tied up drug store employees and they're still on the loose.
Surveillance video shows the suspects walking into the drug store. Police are hoping the public might help identify the suspects by seeing their photos from the video.
All three suspects had guns.
The men robbed the CVS pharmacy at 35th Avenue and Glendale Avenue in January 2011.
Two of the suspects tied up the workers inside, police said.
The third suspect pulled a gun at the pharmacy window and then jumped the counter. He demanded the pharmacist open the safe.
The three men made off with more than 6,000 tablets of Oxycontin, worth about $175,000 on the street.
Police are offering a reward of up to $3,500 for any information leading to their arrest.
Callers may remain anonymous by calling Silent Witness at 480-WITNESS or send a tip online at SILENTWITNESS.org.