Fugitive captured: Paul Eischeid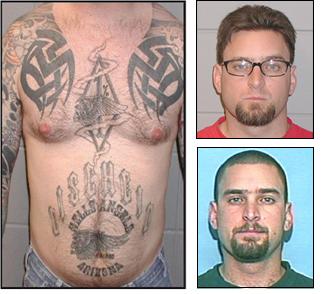 Authorities say he was a stockbroker by day and a member of the Hells Angels by night.
But one of the US Marshals' most wanted man is captured.
Marshals say they pursued hundreds of leads around the world, and in February 2011, they tracked him down in Buenos Aires, Argentina.
Agents said Paul Eischeid had used several aliases, shaved his head and grown a beard so he looked very different from an old photo they had of him. However, the tattoos all over his body helped police confirm they had their man.
Eischeid led a double life when he was in Arizona, according to investigators. Stock broker by day -- a dangerous member of the notorious hell's angel's motorcycle gang by night.
"He was unusually handsome. He was charming. He was articulate because he was a former stockbroker. So he wasn't a person you'd expect to be a member of the Hells Angels. Was very disarming that way and that was one of the reasons he was construed as so dangerous," said Kerrie Droban, author of "Running With the Devil."
Droban book focused on the feds' infiltration of the Hell's Angels that resulted in a huge bust of the motorcycle gang in 2003. Eischeid's accused in the murder of Cynthia Garcia who attended a party at the Hell's Angels Mesa clubhouse in 2001.

"She got out of hand so the story goes, made some comments he considered disrespectful, so they took care of business, they called it 'TCB'," Droban said.
Investigators said Garcia was several beaten, stabbed 27 times, partially decapitated, stuffed in a trunk and dumped in the desert.
Eischeid was arrested in 2003… but released on his own recognizance because he had a good job and a relatively clean criminal record.
Investigators said he cut off his ankle monitor and was on the run for 8 years.